Not only is Blue Water Plumbing & Water Treatment LLC the premier provider of water filtration and reverse osmosis in Central Oregon, we're also certified plumbers, ready to deliver critical services to you and your home or business. Take a look at some of our core capabilities below.
Water heaters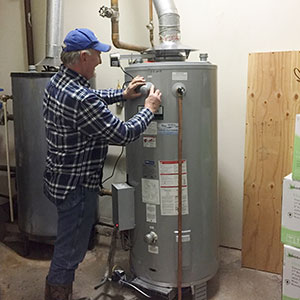 Not being able to take a hot shower or run your dishwasher with hot water is more than just a nuisance—it's a disruption to your quality of life. When your water heater is the culprit, let our team provide solutions:
Replacement: If catastrophic failure has reached your water heater and a replacement is required, let us work with you to find the right replacement for your budget and your home's needs.
Repair: From thermostat replacement to draining and water treatment, we're able to get your water heater back in functional condition when it stops performing. Let us assess and address any situation you're facing when it comes to your water heater.
Backflow
Back flowing effluent from your plumbing is a biohazard situation that any homeowner would rather avoid. We're committed to protecting you and your home from backflow issues through a variety of critical services:
Install: If you don't currently have a backflow valve in place, we can assist you in the installation of one. Our trained technicians will help you minimize the potential for backflow once and for all.
Testing: Is your backflow valve working? Will you and your home be protected in a backflow event? We offer testing to make sure your valves are operating to their fullest.
Repair: If your backflow valve is found to be faulty or has issues that prevent it from working properly, enlist our experts to address the issue and restore this critical failsafe to a high degree of function.
Fixtures
More than just working with you to install a water filter system in Central Oregon, we're also pleased to provide services for your plumbing fixtures, to ensure everything is in full working order. Some of our core services include:
Replacement: If your major plumbing installation has met the end of its lifespan, we're happy to work with you to make sure you're able to get a placement that works to the level you require.
Repair: Plumbing troubles need swift and encompassing solutions, before they become costly and dangerous problems. We're happy to provide you with complete plumbing repairs to prevent water-related headaches from arising.