Blue Water Plumbing & Water Treatment LLC
For more than 10 years, Blue Water Plumbing & Water Treatment LLC has been providing homes and businesses in Central Oregon with pure, filtered water. From water testing to filtration system installation and beyond, we are your first point of contact towards cleaner and clearer water! Consult with us today to learn more.
Learn more
Expert Water Filtration and Plumbing Services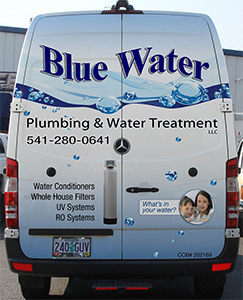 To experience the cleanest, purest water, means more than just having a good water filter system in Central Oregon. At Blue Water Plumbing & Water Treatment LLC we know that water purification starts with water testing. Water testing determines what exactly is contaminating your water, what system is best utilized to absolve it of these parameters, and how your home or business can best benefit from it. To that end, we get to the bottom of your water issues and can provide insight into virtually any filtration system you might need, from UV systems and Reverse Osmosis to Nitrate and Arsenic in Central Oregon and beyond.
What sets us apart from other filtration system providers is our ability to service and install everything we sell. We're the exclusive Water-Right dealer for Bend, OR, as well as an accredited plumber. This means you don't have to work with several contractors to get your system in place—our experienced team will outfit your home or business with the perfect filtration system quickly and efficiently. From filtration to plumbing fixtures, installation to maintenance, you'll never need another water service professional! Take a look at just a few more reasons we're so widely regarded by our customers:
We're pleased to serve all of Bend, OR, as well as Central Oregon and beyond.
We're your exclusive Water-Right dealer for all of Bend, OR!
We can handle the entire installation of your water treatment system—there's no need to call a plumber!
All of our equipment is NSF qualified, for your peace of mind.
We're a family-owned and –operated business!

Here at Blue Water Plumbing & Water Treatment LLC we are your Water-Right & Master Water dealer. Offering Softeners, Filtration, Drinking Water Systems, UV Systems, Cartridge Filters and Water Testing.