Providing Water Alliteration Systems Throughout the Central Oregon Area
Backed by more than 30 years of water heater installation, treatment, and filtration experience, Blue Water Plumbing & Water Treatment LLC provides homes and businesses throughout Central Oregon with cleaner potable water. Talk to our plumbers about water softeners, water heater repairs, filtration systems, RO systems, UV filtering and much more! Schedule testing and consultation with our team today.
Experience the Very Best in Pure, Filtered Water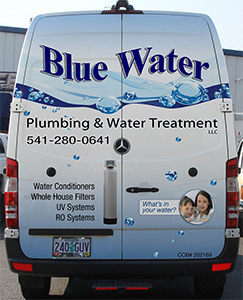 You need clean, safe drinking water in your home or business. But how do you know if the water coming out of your tap is as pure as you expect it to be? Testing is the quickest way to find out, and often, people are surprised by what they learn about their water.
Blue Water Plumbing & Water Treatment LLC knows the importance of clean, safe potable water—but more importantly, we know what it takes to achieve it. We're here to provide home and business owners throughout Powell Butte, OR and all of Central Oregon with comprehensive water heater replacement, testing, and filtration solutions.
No matter what's in your water, our plumbers will help you find a way to raise the standard, so you can drink, cook and bathe with water that's as clean as it should be.
We serve clients in Powell Butte, OR, as well as throughout Central Oregon and beyond.
We're the exclusive Water-Right and Master Water dealer for Powell Butte, OR.
We handle the entire installation and all maintenance for your water treatment solutions.
All of our equipment and water heater installations are National Science Foundation (NSF) qualified, for peace of mind.
We're a family-owned and –operated business that takes pride in customer service.
Testing determines what, exactly, is contaminating your water and what system is best equipped to remedy it. From heavy metals to dangerous chemicals, to microbes and other natural particulates, we put your water through a battery of tests to make sure we understand exactly what condition it's in. Knowledge is the first step.
Once we get to the bottom of your water issues, we provide insight into virtually any filtration system you might need. Depending on what's in your water, we may recommend anything from UV systems to nitrate and arsenic mitigation filters and beyond. We make sure you get the filtration system you need for total peace of mind.
Sales and Service
What sets us apart from other filtration system providers and water heater replacement services is our ability to service and install everything we sell. We're the exclusive Water-Right and Master Water dealer for Powell Butte, Terrebonne, Deschutes, Bend, and Redmond, OR, as well as an accredited plumber. You don't have to work with multiple contractors to get your system in place—our experienced water treatment solutions team will outfit your home or business with the perfect filtration system quickly and efficiently.
Here at Blue Water Plumbing & Water Treatment LLC we are your Water-Right & Master Water dealer. Offering water heater repairs, water softeners, and more.
Contact us
today!